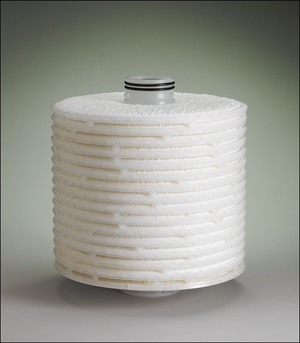 ErtelAlsop G-series (mineral free) depth filter cartridges, also known as depth filter modules, are manufactured in 12 inch (30.5 cm) diameter and include 16 stacked lenticular filter cells.   No Diatomaceous Earth (DE) or Perlite is used in the manufacturing of this filter material.   Each filter cell is comprised of a pair of depth filter media sheets where the edges of each pair is sealed by a patented process, using polypropylene. 
Filter cartridges are available in two construction formats:
Polypropylene cores and flat end cap gaskets
Polypropylene cores and double O-ring end cap gaskets
Features
Highly Efficient Particle Retention
All Pak® cartridges utilize ErtelAlsop depth 

filter media

, which provides a range of particle retention with high solids loading capacity. 
High Solids Loading
The complex matrix of fibers and particles of filter aid create a structure which allows for greater concentration of particles than most surface retention filter media.
High Efficiency and Zeta-Potential
Wide Compatibility
Pak® elements use cellulose and polypropylene which allows for excellent product compatibility. 
Options
Micron Retention: 1.0 - 0.5 Micron
Gasket End Cap:  Flat Gasket or Double O-ring