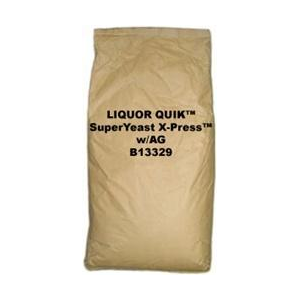 Product Description
Bulk SuperYeast X-Press Turbo Yeast w/AG is specifically formulated to work with mash made with corn, barley, rye, oats, etc.
Buy super yeast in bulk and save! This bulk Turbo/Super Yeast Express is a high-performance temperature and ethanol tolerant yeast that is capable of reaching 20% alcohol from a pure sugar wash.   It also contains Amyloglucosidase enzyme to allow fermentation of grain washes as well.
This 55 lb. bag makes up to 1200 GAL at 20% ABV.