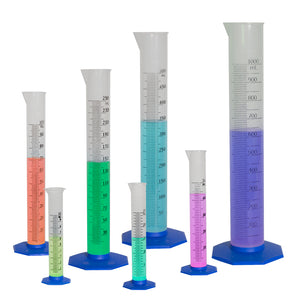 These cylinders are guaranteed to meet accuracy requirements of ASTM Class B, E1272, "Cylinder, Graduated, Laboratory, Glass" and all requirements of ISO Standard 6706.
Polypropylene
No meniscus to confuse readings
Large blue base prevents tipping
Molded-in large, easy-to-read graduations
Can chemically sterilize without affecting accuracy
Can be autoclaved, accuracy will be affected
Graduations: 50mL
Limit of error: 20mL
Meets FDA standards
Dimensions: 5.18" Dia. x 4.0" ID x 23.9" Hgt.