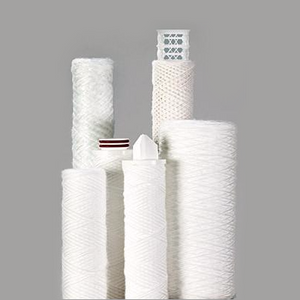 String Wound Filter Cartridge Series. We precisely pattern fibers to create consistently reliable filtration with a trapping effectiveness of up to 99%.
Proof 33 wound cartridges offer a gradual pressure increase during cartridge life instead of the abrupt flow cutoff experienced with competitor's cartridges.
Specifications
Change out P: 25 psi
Max Differential P at Ambient Temp: 60 psi
Retention available in 10, 20, & 25 microns
1 inch Inside Diameter
2.5 inch Outside Diameter
10 & 20 inch Length
Available for purchase individually or by the case.  
10" cartridges - 30 per case;  20" cartridges - 15 per case.