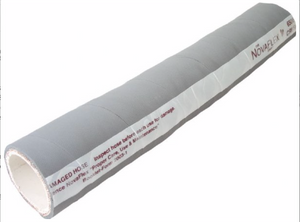 Special kink and crush resistant suction & discharge rubber hose, designed for those more demanding applications requiring a product that meets 3-A (cert# 1803), FDA & USDA standards. This tube is for non-oily applications. Designed to meet the temperatures and chemical resistance associated with "cleaning in place" systems. This ultra smooth microbe resistant tube is built on special stainless steel mandrels for cleanliness.
Temp range is -40F to 240F.
1.5" sanitary tri-clamp or camlock quick connections.